Transforming the profession – the future of accountancy
Reflections from the A4S Accounting Bodies Network
The need for action towards sustainability has never been clearer, and we have greater momentum than ever before. A great deal of progress has been made in the last 15 years – but more is needed in the next 15.
Members of the A4S Accounting Bodies Network (ABN) play a crucial role in shaping the future of the profession. The network has produced a number of outputs in recent years:
Fourteen network members publicly signed a net zero commitment to achieve net zero greenhouse gas emissions in their own organizations as soon as operationally possible and to support their own members to do the same.
A year after making their net zero commitment, ABN members shared their experiences on their road to net zero, providing examples of their activities and how they overcame key challenges.
Instead of focusing on our past achievements, though, we have chosen to celebrate our 15-year anniversary by looking forward. The context in which accountants operate is changing rapidly, with increasing recognition of the role of finance in embedding sustainability into organizations and the global economy more broadly. As professional bodies it is vital that we help the profession adapt so that it not only keeps pace with sustainability developments and maintains its relevance, but also plays a key role in influencing the trajectory we are currently on.
We urgently need to address the interconnected social, climate and nature emergencies we face, yet the window of opportunity for shifting the trajectory of the global economy to respond to this need is shrinking. Rethinking the purpose, principles and practice of accounting to respond to this multidimensional crisis, such that as a profession we are equipped to play an active role in the solution, could be the difference between success or failure in striving towards a sustainable global economy. Nothing less than a transformation is needed – of skills, technology and systems. In the sections below, we have laid out our vision for the future in these three areas and what we as a profession need to do to achieve that vision.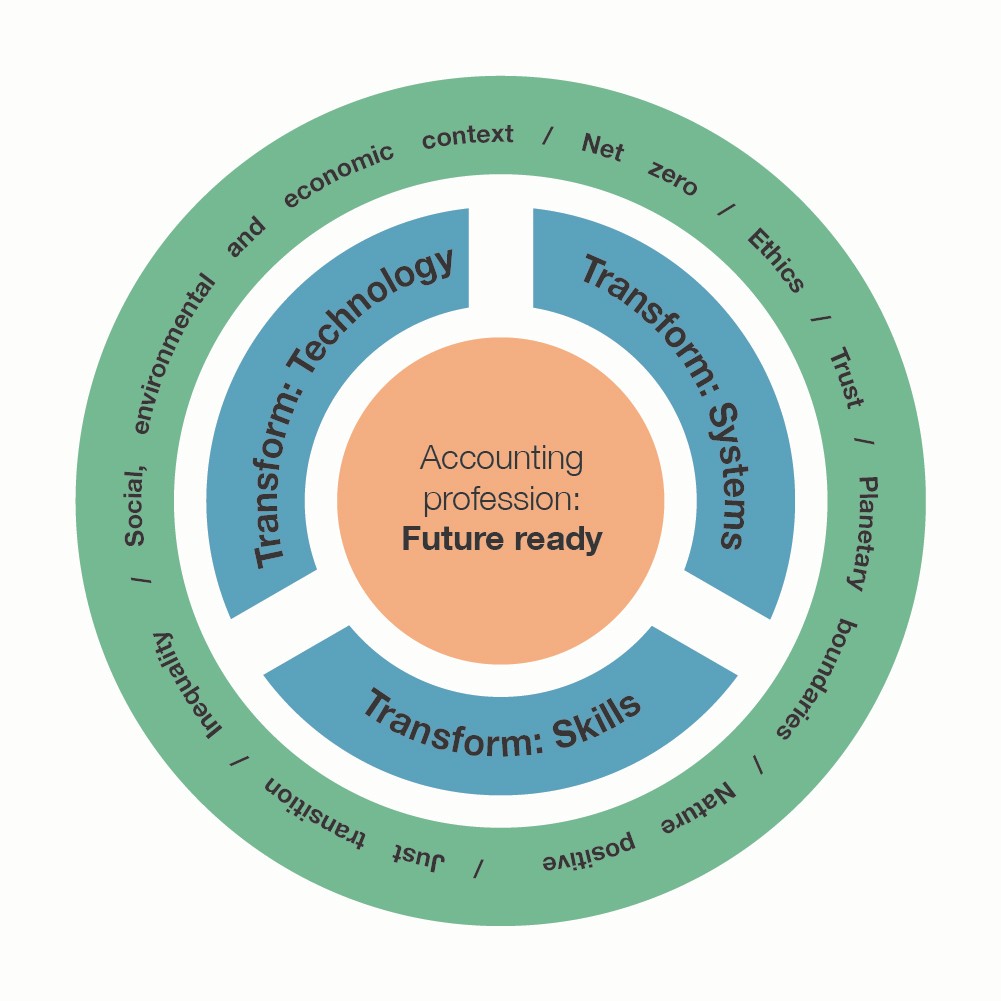 SKILLS TODAY
Rising recognition of the scale of the challenge is leading to more ambitious sustainability commitments and higher demand for sustainability reporting. For many organizations, these changes are driving a shift in how they think about value creation and risk management – creating a growing business need for accountants who understand sustainability and can integrate it into decision making. New roles, such as carbon accountants and sustainability controllers, are being created to meet evolving challenges. Meanwhile, social and environmental considerations are an increasingly important part of core finance functions such as management accounting, reporting and treasury. 
Given the speed of this change and the time it takes to build capability within the profession, the new market reality is not yet consistently reflected in syllabuses for accountancy qualifications and in continuing professional development (CPD), or in the school and university programmes that come at an earlier stage. The result is a global skills shortage that jeopardizes the capacity of organizations to achieve their goals. 
Skills tomorrow
Accounting bodies around the world will need to do their part to address the shortage of skills:
SKILLS TRANSFORMED
Driven by the efforts of accounting bodies and with their continued support, professional accountants will be empowered to embed sustainability into all aspects of their existing work across all sectors. Sustainability will be normalized as part of the syllabus for accountancy training programmes. Existing finance professionals will have a wealth of opportunity to expand their sustainability knowledge through CPD, and their sustainability-focused colleagues will have access to specialized training on accountancy that suits their own roles. 
The result is a thriving and varied profession that appeals to a new generation of accountants, who will put their skills to work in building a sustainable future. 
TECHNOLOGY TODAY
In recent years consumers, investors and regulators have shown a sharply increased interest in organizations' sustainability performance, driving a need for more social and environmental data. 
Many organizations have limited processes and governance around sustainability data and have underexplored how they can use technology most effectively. They face challenges around how to collect sustainability data, use that data and become better prepared for the increasing assurance requirements over that data across their value chain. These challenges are exacerbated by weak controls, complex data sets and inconsistent measurement. Often data flows through more than one system, and issues arise over maintaining data quality through these migrations. 
As a result, sustainability data and reporting are still less reliable and less trusted than financial data and reporting. This limits the extent to which social and environmental factors are likely to be considered in business decision making – which will be vital for achieving a sustainable economy.

TECHNOLOGY TOMORROW
Accounting bodies have an important part to play as we explore the role of technology in our profession and the role of professional accountants in sustainability data, reporting and decision making:
TECHNOLOGY TRANSFORMED
We envisage that technology will be fundamental in solving the world's challenges and will support business decision making over social and environmental considerations on a wide scale and in a range of ways. The technology underpinning data collection, monitoring and reporting systems will be reliable, with strong interoperability between systems. Users – including consumers, investors and regulators – will have greater trust in sustainability data and reporting as a result. 
Professional accountants will have been important drivers of this shift, with training and ongoing support provided by accounting bodies. Within organizations, accountants will have created strong frameworks and controls around how technology is used in this area, and they will play an active part in shaping how technology is used in business analysis and strategy. When it comes to decision making, accountants will be well-equipped to ensure that inputs are relevant and to support decision makers with analysis and insights on data sources. Assurance professionals will be experienced in providing assurance over sustainability data and reporting.  
As a collective, our profession will be significantly more adept at harnessing the potential of both current and emerging technologies, enabling us to maximize their effectiveness and impact.
SYSTEMS TODAY
Our economy, which steers how we live and work, is shaped by systems that still generally focus on financial capital and financial risk at the entity level. This narrow view disregards the ways in which organizations both affect and depend upon human, social and environmental factors. Externalities are created that then go unaddressed. Organizations are left ill-equipped to play their part in addressing the macro-level challenges – climate change, biodiversity loss, structural inequality – that we face. 
The dominant measure of economic success, GDP, both reflects and continues to drive a restrictive view of organizations, the market and economic goals. GDP alone fails to capture – and therefore our systems fail to prioritize – the value of a thriving planet and population. At worst, the dominance of this measure incentivizes an extractive view of the world that is at odds with a more balanced, sustainable approach. A sustainable world requires the viability of the whole system, which goes beyond financial profit alone. 
SYSTEMS TOMORROW
Recognition of the complexity and interdependency of the world's systems should be central to our profession and how we work, and accounting bodies will need to provide leadership and support for accountants as they drive change in some fundamental ways: 
SYSTEMS TRANSFORMED
We see a world in which our systems are rooted in a holistic understanding of value. Our profession will reflect this, with accountants working within cross-functional teams in which sustainability is part of everyone's role and is everyone's responsibility. Professional accountants will be taking a broad view of risks, identifying the new organizational opportunities offered by a changing world, and producing reports and analyses that bring together an expanded range of measures. This holistic understanding of value will inform all business decisions, driving climate positive, nature positive and societally beneficial outcomes.
Our members will be central to the transformation of systems needed to achieve this. In turn, the systems of the future will create a broader range of professional opportunities for accountants than ever before.
OUR VISION: A PROFESSION TRANSFORMED
The world is changing. Macro sustainability trends – such as climate change, biodiversity loss and inequality – represent a fundamental threat to our planet and all those who depend upon it. Across the globe governments, organizations and individuals are responding to the challenge. They are collaborating, innovating, developing new approaches.
Our profession needs to transform too – reimagining our skills, our technology and our systems as we rethink the purpose, principles and practice of accounting. Accounting bodies will be at the forefront of this change, leading by example throughout all our activities.
To be fit for purpose, sustainability needs to be fully integrated into accounting. Accounting qualifications, CPD and our professional competencies need to have sustainability at their heart. Our professional codes of ethics, too, can introduce obligations for qualified accountants to operate in a way that is mindful of planetary boundaries.
Our vision of the future requires more than just new knowledge, though – it relies upon an integrated approach to business and value creation. This in turn demands a fundamental rethink of our profession's ways of working. Accountants will need to draw on all the tools and technologies at our disposal as we move forward.
We cannot achieve this vision alone. At the policy level, accounting bodies will need to provide sound advice to support governments as they shape the environment that accountants operate within. We will also need to engage with businesses and academic institutions to help them re-envisage the role that accountants can play in achieving organizational goals, including sustainability commitments, accelerating the demand for change and driving more opportunities for accountants.
The social and environmental challenges we collectively face provide an urgent need for us to reinvigorate our profession, but this also presents us with a huge opportunity. We look forward to helping shape that future and building a springboard from which new generations of accountants can take us forward even further.