The CFO Roundtable at Ecosperity week 2023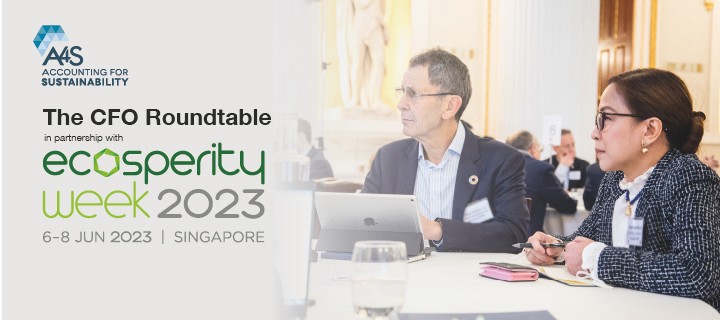 Location: Ecosperity, Singapore
Time: 3.00 – 5.00pm SGT, 6th June 2023
A4S is an event partner of Ecosperity Week 2023.
Speakers:
Keynote: Mary L. Schapiro, Vice Chair for Global Public Policy of Bloomberg and Vice Chair of GFANZ
Rishi Kalra​, Executive Director & Group CFO Olam Food Ingredients (ofi)​

Yuki Yasui​, Managing Director Asia Pacific​, GFANZ

Jessica Fries​, Executive Chair​, A4S​


Join Accounting for Sustainability (A4S) for this CFO roundtable on the crucial role of finance in operationalizing net zero. This invitation-only event will bring together CFOs and other senior representatives from the finance community to discuss the key role that finance must play in transition planning and achieving net zero.
Participants will explore the challenges and opportunities for finance in supporting the transition to a net zero economy. You will also discuss how finance leaders can use transition planning to communicate to investors and stakeholders a clear set of practical steps to turn net zero commitments, ambitions and targets into concrete actions.
This is an excellent opportunity to network with peers, exchange ideas and best practices, and gain insights from industry experts. Don't miss this chance to be part of the discussion and learn how finance can lead the way in achieving a sustainable future. Enquire now to register your interest.
Click here for a full list of events during Ecosperity Week 2023 >
Networking event
A4S is co-hosting a networking event with other Ecosperity partners directly after our event. By attending the A4S CFO Roundtable you will have access to this networking event.
It is no longer possible to register as the event date has now passed.